In January, 2019, Jamaica introduced a ban on single-use plastic bags, plastic straws and Styrofoam in a bid to reduce the impact plastic is having on the environment.
Before the ban, Jamaica was known to have one of the highest per capita uses of plastic bags in the world, with the average person estimated to use around 500 bags each year.
The ban covers the manufacture, importation and distribution of disposable plastic bags, including the formerly ubiquitous black "scandal bags", named as such due to their opaque black color that prevents others from viewing the scandalous contents contained inside!
One of Jamaica's youngest parliamentarians spearheaded the movement towards waste reduction on the island. Matthew Samuda is a Jamaican Senator who has long been involved in Jamaican politics,  and was appointed to the Upper House of Parliament in 2016 at the age of just 32. Though this new role he saw the opportunity to champion environmental causes.
Samuda has lived his whole life in Kingston, Jamaica, pursuing various entrepreneurial, civic and political areas. He was also a founding partner of Jamaica's first full-service recycling company, which processed waste material for export, reducing the amount going to landfill.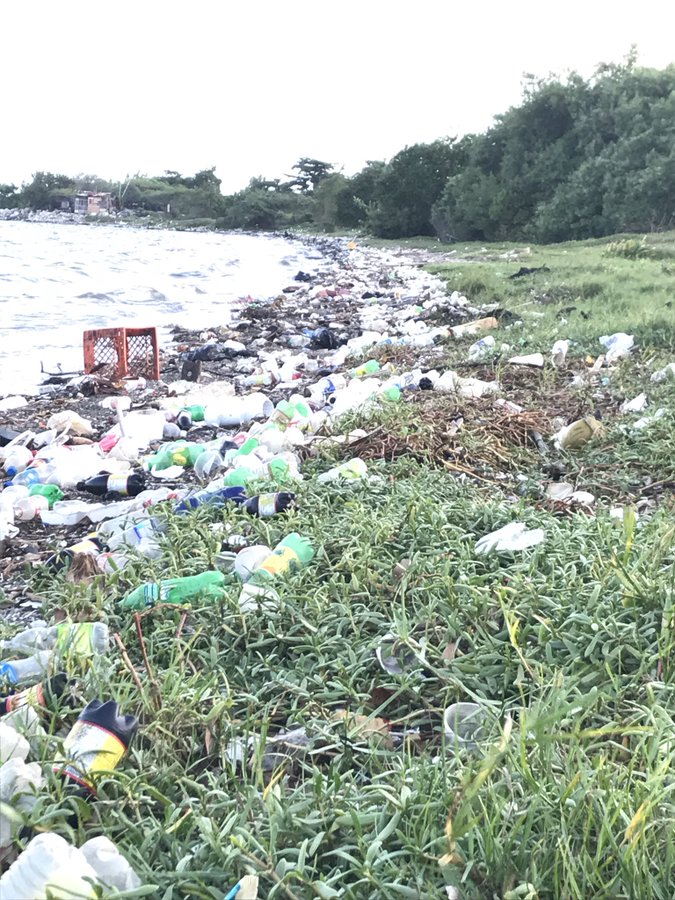 May 8, 2018: "We cleaned this beach on April 21st and all it took was one rain and look at it, WORSE than before. We are flirting with Disaster. There can be NO Blue economy if we continue to manage our Solid Waste this way. Urgent Action must be taken now."

Matthew Samuda@matthewsamuda
Senator Matthew Samuda speaking in Parliament.
In an interview, Senator Matthew Samuda discusses Jamaica's drive to reduce plastic waste:
James Ellsmoor: How was Jamaica able to move so quickly? Did the government involve universities and the private sector?
Matthew Samuda: The Prime Minister, The Most Honourable Andrew Holness, has repeatedly stated his commitment to robust economic growth and protection against environmental degradation. Though often a difficult balancing act, he has continually demonstrated this commitment.
When the motion was adopted by the Senate, The Prime Minister. threw his support behind it. This allowed me to galvanize the support of the varying stakeholder Government Agencies to get the necessary work done. His leadership and support is what allowed the policy to become a reality. I am actually happy that it is viewed as having moved quickly.
Admittedly,  there were times where it felt like the process was dragging on, without an end in sight. The policy received support and in some cases "blood, sweat & tears" from many stakeholder groups in society. These groups were represented by a Working Group which was charged with the responsibility to make the policy recommendations and oversee the implementation.
James Ellsmoor: What has been the response to the move? Is this creating any business opportunities?
Matthew Samuda: The response has been mostly positive. However, it is a major cultural change in our consumption pattern for us in Jamaica. So, it has received its fair share of angst and apprehension from some circles.
I would break the responses down by category:
The Parliamentary Opposition has supported the ban. This gives the benefit of not being subject to a political fight.
Environmental groups have been the most vocal in civil society in supporting the policy. However, the main groups from the Private Sector being the Jamaica Chamber of Commerce, the Private Sector Organization of Jamaica, and the Jamaica Manufacturers & Exporters Association also have all issued statements of support.
The Jamaica Hotel & Tourist Association have also supported the measure with member Hoteliers like Sandals extending the policy regionally to their hotels.
Groups like Rotary & Kiwanis Clubs locally have also expressed their support.
The major concerns have come from sections of the Manufacturing sector which used to produce the banned items. To be fair, that's to be expected. The Government, however, has responded through the Development Bank of Jamaica by making financing available for retooling.
The main concern which has come from members of the public has been related to containerization of waste, which many of the banned bags would've previously been used to do. The policy as designed doesn't ban "Garbage Bags" specifically for this reason. It has created a hybrid of sorts, where some bags are banned and bags for containerization of waste, and as primary food packaging are exempt. This forces persons to pay in some cases for these bags, much like what has been implemented in the UK.
James Ellsmoor: What would you recommend to other countries and regions looking to ban plastics? What lessons can be learned from Jamaica's experience?
Matthew Samuda: Consult, Engage, and Act!
Any policy change of this nature requires the support of citizens. Generally, persons globally are developing a greater understanding of the impact humans have on our environment and specifically the impact of plastic consumption. This, however, doesn't reduce the need for any government to consult its citizens and to engage them in the policy process.
In the Jamaican case, the major lesson would be the need for a robust public education campaign once the policy has been determined. I would encourage any Government, to ensure this aspect is paid the attention it requires. This is an important component of the engagement process.
In this consultation and engagement process, it is important to ensure the citizens understand the urgency of now though. We are running out of time to protect our environment from this scourge of plastic pollution. Deadlines then become important, and critical.
FOR FULL INTERVIEW SEE: Banning Plastic: How Jamaica Moved To Save Its Environment
By James Ellsmoore, Forbes,
February 15, 2019
Earlier announcement:
The island nation is also embarking on a campaign to reduce how much plastic enters marine environments. Plastic pollution has become a major concern in Jamaica major concern in Jamaica, and this new announcement builds on earlier efforts to improve recycling programs.
The government will also be encouraging citizens to reduce their plastic use by, among other things, buying tote bags.
"We're moving towards a ban on single-use plastic, but while we do so, we're also working on a Plastic Minimisation Project in collaboration with United Nations Environment, and with the support of the Government of Japan, to reduce and manage plastic marine litter from the land-based activities, in an environmentally sound matter," stated Daryl Vaz, a member of the Jamaica's ministry of economic growth and job creation.
… In recent years, more than 60 countries have taken action against plastic production in response to growing awareness of a crisis levels of environmental pollution.
More than 380 million tons of plastic are produced each year and the vast majority of this material is thrown away, never to be recycled. A lot of this plastic, up to 13 million tons per year, makes it into the world's oceans where it causes great harm to marine life. A UN report found that up to 5 trillion plastic bags are used each year, which, if tied together, would span the planet seven times every hour.
Further, a 2014 study estimated that 5.25 trillion pieces of microplastic are in marine environments. By 2050, ocean plastic could outweigh fish. These microplastics are so pervasive that humans actually eat around 70,000 microplastic fibers every year.
When Jamaica's new law goes into effect by 2019, millions of more tons of plastic will have made it into the world's oceans. By then, hopefully, plastic production will have peaked…
September 18, 2018
SEE FULL ARTICLE AT: Jamaica Announces Plan to Ban Styrofoam, Plastic Bags, and Plastic Straws